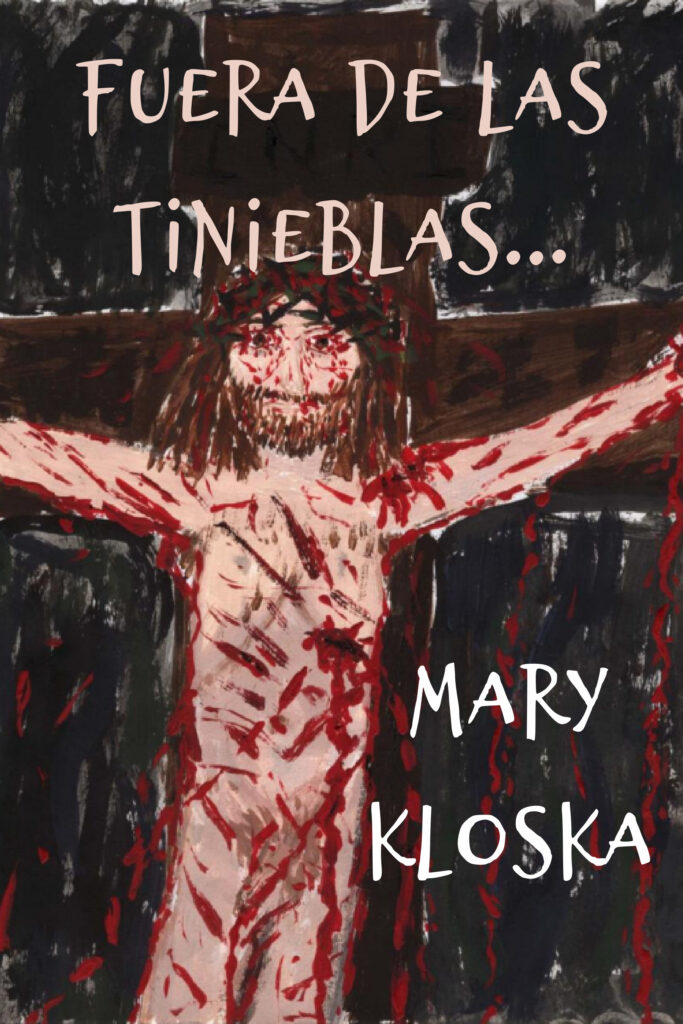 Fuera de las Tinieblas
por Mary Kloska
Aquí, al principio de este libro, no quiero explicar mucho sobre mí (quien soy, o dónde vivo, o dónde estudié), en su lugar, me gustaría simplemente presentarlo como es: una colección de tesoros que Jesús ha compartido con mi corazón. Al hacer esto espero ser testigo del gran poder que la Cruz de Jesús contiene en sí misma. Mi corazón se estremece al pensar de mi vida interior con Él, tan abierta ante el mundo, pero debo recordar que mi esposo fue crucificado desnudo—dando todo de Sí mismo al mundo, y permitiéndonos alcanzarlo y tocar Sus heridas desnudas, para que podamos conocer el abismo insondable de Su Amor, contenidas en ellas. Y por eso, debo estar 'desnuda' espiritualmente con Él, para que todos ustedes puedan recibir Su Amor en esta forma íntima. Ya que Jesús da tales dones para ser compartidos con todos en Su Iglesia. Ruego que quien soy yo, no los distraiga de Quien es Él, ya que eso es lo que Él quiere mostrarles aquí. Todo lo que soy es: Su pequeña esposa crucificada, hecha una con Él en la Cruz. Él es todo en mí. Y así, similar a San Pablo, debo vivir simplemente para poder decir: "No soy yo quien vive, sino Cristo Crucificado vive en mí." Ruego que ustedes lo encuentren en estas páginas. Amén. Aleluya. Fíat.
Paperback: $16.95 | Kindle: $9.99
Support Mary's work! Sign-up today for a monthly donation to her through her Patreon account by clicking the image below!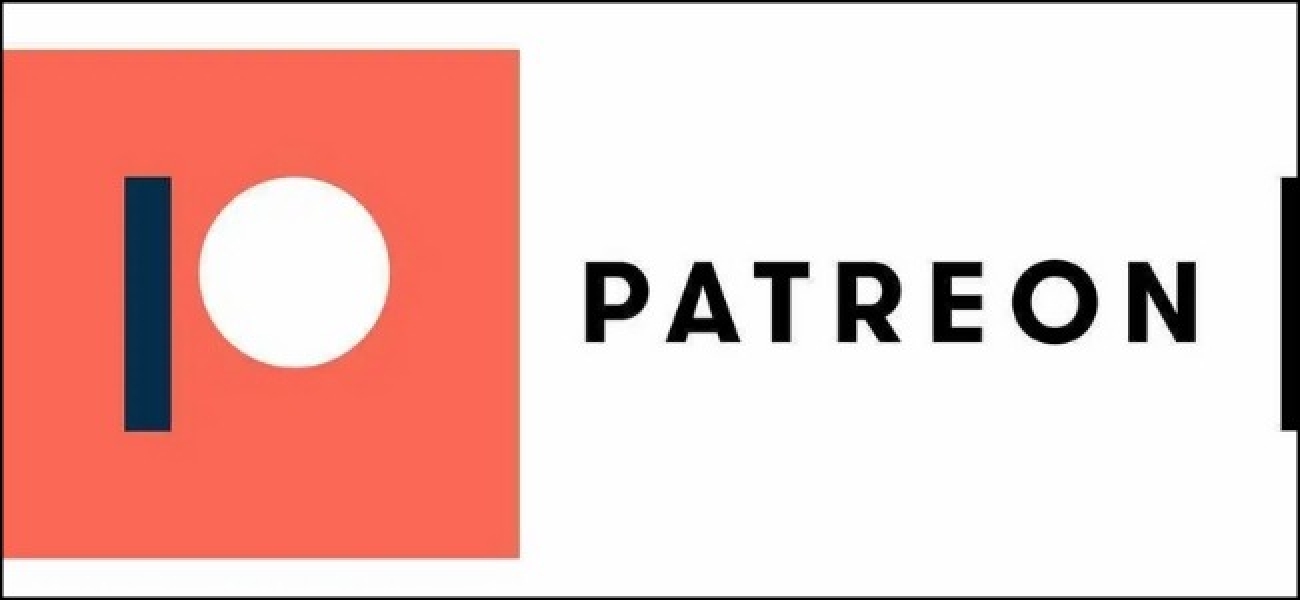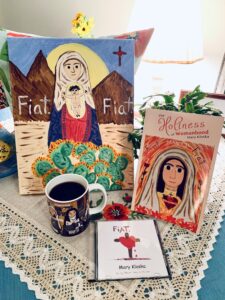 Buy a pillow and email mahfood@wcatradio.com a photo of you holding it, and I'll post your photo on this page with your message to Mary.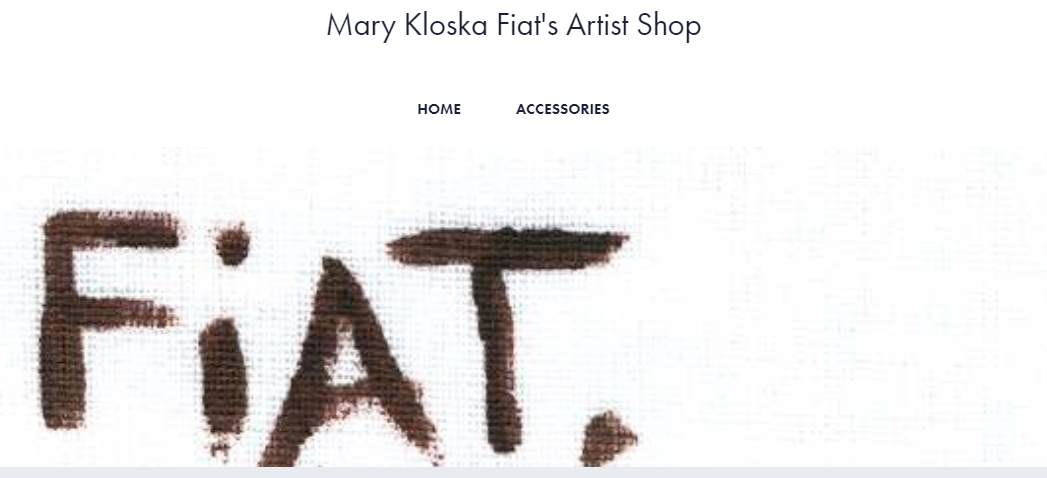 The Heart of Fiat Crucified Love
ELOGIOS ADICIONALES
"Mary Kloska ha pintado otro ícono maravilloso, como el título de este libro. Ella nos provee una buena explicación del ícono, el cual representa el Amor de Cristo como suave, humilde y fuerte. Aunque Jesús es mostrado en la Cruz y sangrando abundantemente, Mary nos muestra que Él tiene el control.  Él mira la escena frente a Él. Es como si está mirando directamente a los ojos de cada persona, que vivió, está viviendo, o que vivirá. Mira a los ojos de los niños abortados y malogrados (de aborto espontáneo). El conoce la necesidad de salvación que tienen, y se sacrifica a Sí mismo. Su fuerza es clara en esa Mirada, en el hecho de entregarse, más aún que Su debilidad de ser crucificado. Esa profundidad entra en las páginas de este libro y atrae al lector, contemplativamente. Un lector no puede apresurarse a leer los capítulos. Cada frase debe ser pensada; cada imagen debe introducida. Cada sección, de cada capítulo, se basa en la siguiente de una manera deliberada y escrita con el intento de aportar comprensión espiritual al lector."—Dr. Cynthia Toolin-Wilson, WCAT Radio anfitriona de "Autor a Autor"
"Este manuscrito me afectó profundamente en mi vida espiritual… y es muy difícil para alguien de 82-años aprender algo nuevo… esto realmente fue cambio de vida para mi espiritualidad."—Ronda Chervin, autora de Siempre un Nuevo Comienzo: Una Conversación Entre Guerreros Católicos Espirituales Rotos
"Este libro es un regalo para cualquiera que lo lea, porque nos muestra como—así como Jesús le dijo a Mary—'podemos ser hechos profundamente 'uno' con Él, en la Cruz."—Hna. Patrizia Pasquini, ASC, Generalate hermanas de La Más Preciosísima Sangre
ABOUT THE AUTHOR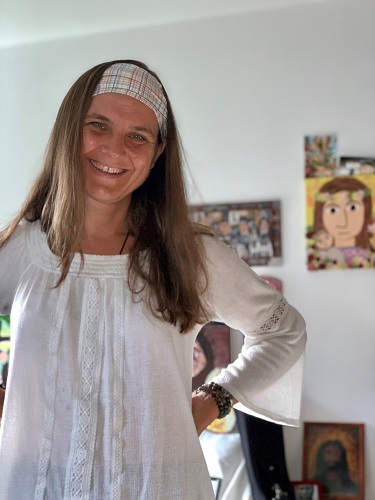 Mary Kloska es de Elkhart, Indiana, y ha vivido una vida única. Al graduarse de Notre Dame en l999, dedicó 20 años en la misiones sirviendo a los pobres (incluyendo huérfanos) como también orando como una ermitaña consagrada alrededor del mundo—Siberia, Nigeria, Tanzania, Sur África, Las Filipinas, México, Tierra Santa, como también por toda Europa. Ella disfruta tocar guitarra, pintar íconos, hornear, la jardinería, leer, escribir, y simplemente ayudar donde haya una necesidad más grande en la iglesia. Su programa de Radio WCAT: "El Corazón del Amor Crucificado Fiat", puede ser encontrado en wcatradio.com/heartoffiatcrucifiedlove/
OTHER CATHOLIC SPIRITUALITY BOOKS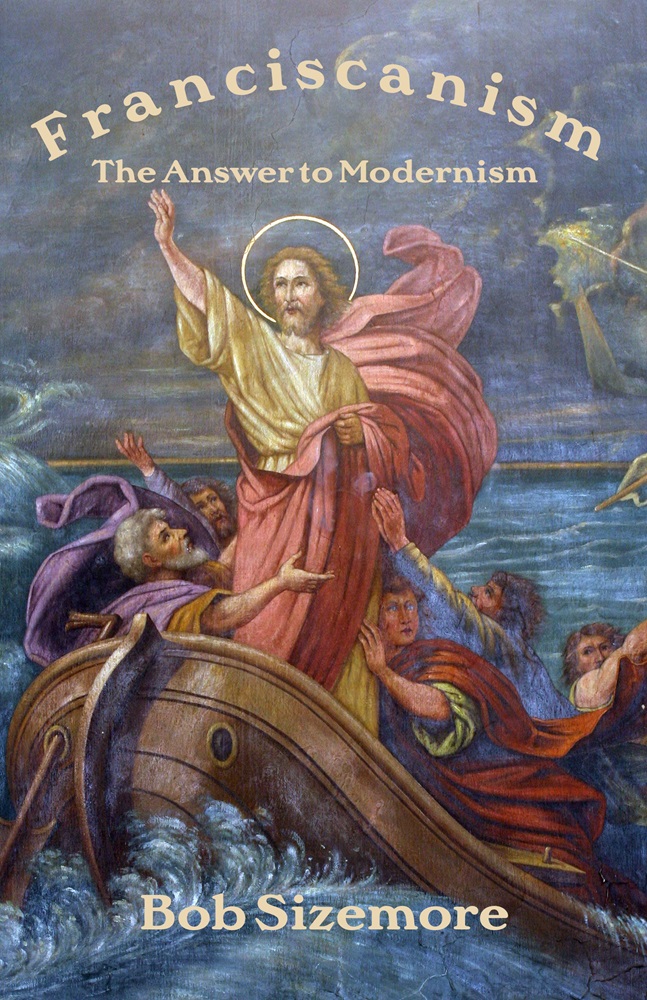 Franciscanism: The Answer to Modernism By Bob Sizemore In a culture of death, St. Francis restores us to life. This book invites the reader into Franciscanism as the answer to Modernism.   Paperback $7.99 | Kindle $2.99  TESTIMONIALS "As a Lay Dominican, I found in...
read more