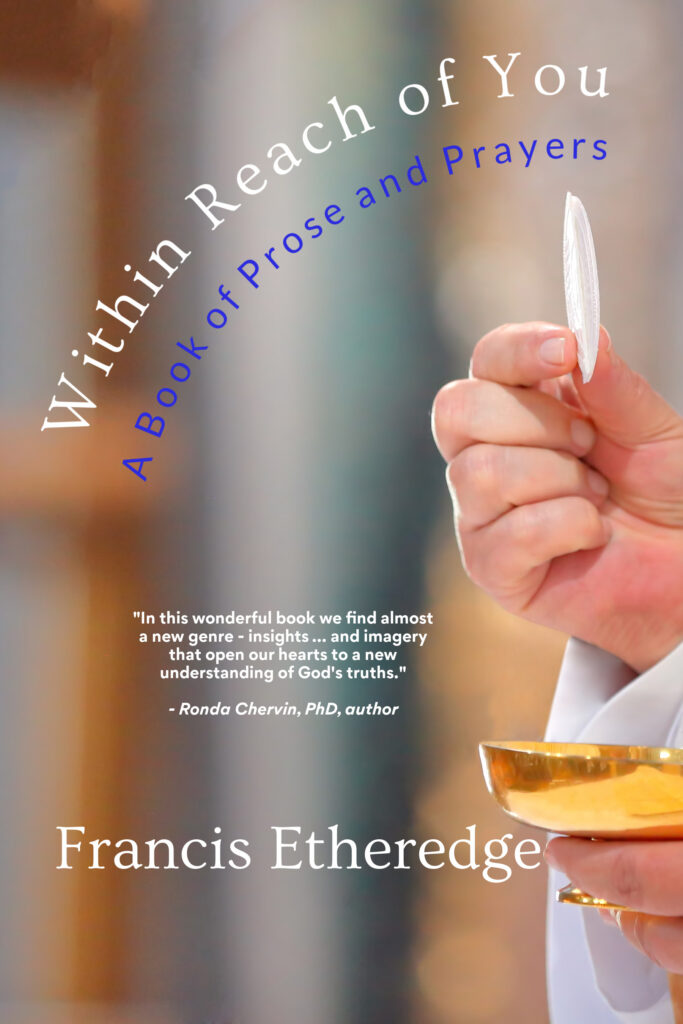 Within Reach of You: A Book of Prose and Prayers
by Francis Etheredge
Prayer is immediate because God is present; and, therefore, there is no nearer, quicker more "in touch" contact than prayer. Prayer is personal – because it arises out of each person's life; and prayer is communal because we pray with all who pray for all who need prayers. Prayer is the simplest communication because we are speaking to one who listens; and, whether we use words or not there is prayer in the intention to pray. Prayer is challenging because it may not be answered as we ask – but answered according to a greater good we can scarcely see. Prayer is for the smallest need and the greatest common good. Prayer excludes no one and includes everyone; and, therefore, whether we are present or not, prayer makes it possible for us to accompany both the living and the dead into the presence of God.
Paperback: TBA | Kindle: $9.99
Dedication
Oh angel of God
Acknowledgements
And a Summary Introduction: What is Prayer?
"Working"
Foreword and Prayer
Bishop Fintan Monahan of Killaloe Diocese, Ireland
Within Reach of You
General Introduction
A Brief Answer
Prayer-as-Relationship
The Centre of this Book: The Domestic Church
Faith, hope and love are the foundation of prayer

Guest Prayer: Martin P. Higgins (RIP)
Martin's Prayer

Either Or (I)
The Chosen Moment (II)
A Relationship (III)

Guest Prayer: James Sale
Prayer
Part I: Place
Out of the Wind
Timeless
Pilgrimage
A Place to Pray
The Kitchen Sink
Guest Prayer: Rev. Dr. Ed Hird
A Prayer for Pilgrim Families
Part II: Faith and Reason
What Exists and Human Reason
The earth in our hands
Word by Word
Moses the Shepherd (for Archbishop Moses Costa, Bangladesh)
A New Beginning (A Prayer for those Murdered in the Nice
Cathedral Attack, in English and French)
Mercy is Your Name (A Prayer for all those Beheaded in
Mozambique)
Our Need for Help (A Prayer for those Beheaded in Nigeria)

Guest Prayer: The Revd. Neil Vigers
On Ecumenism
Part III: Talents, Business and Cultural Gifts
In the Image of the Creator
Work-in-Context
Hope in Blossom (A Prayer for China, in English and Chinese)

Guest Prayer: Eric Manuel Torres
A Devoted Student's Prayer
Part IV: In the Family
Two Giant Mice, Lord, and Other Creatures in Other Worlds
Two by Two
Two-in-One, Lord, Even Three

Guest Prayer: I of II: Dr. Mary Anne Urlakis
The Gift of Life

Whatever Life Brings: It is Day by Day:

Lockdown: Our changing circumstances
Monday and the week
Easter Night and Early Morning
Vegetables and other activities
Alternate times of "normality"
Postscript: Christmas and St. Therese of Lisieux
Part IV: In the Family (cont.)
Prayers:
Short Prayers (I)
Short Prayer (II); Water into Wine (cf. Jn 2: 1-11)
A Longer Short Prayer (III): A Nothing into Something Day

Guest Prayer: Grace Marie Urlakis
Stained Glass

The Family Journey (in five parts plus one before the prayers):

The challenges of our children's questions: the death of Pharaoh,
physics and vocation
Who is responsible for Pharaoh's death?
If all is physics …
More obviously personal questions: What is the goal of life?

More Prayers
Love Loves to be Undivided
"Lord, Give Success to the Work of Our Hands" (Ps 89)
Child-Thief

Guest Prayer: II of II: Dr. Mary Anne Urlakis
If I Had the Faith of a Child
Part V: In Healthcare and in Prison
Guest Prayer: I of II: Andy Doyle, OP
Man of Sorrows

Legs: On Pain and Healing
"You have the words of eternal life" (Jn 6: 68) (A Prayer to Repeal the Dutch Euthanasia Law for Under 12s and indeed for Anyone)
To Kiss the Leper (A Prayer for all Healthcare Workers with
Covid-19)
"Oh Mother of the Stairs" (Part I: A Prayer for All Prisoners with
Covid-19)
"Jesus, remember me" (Lk 23: 42) (Part II: A Prayer for All
Prisoners Who Have Died of Covid-19)
"Hell's Hole: An Unbidden Mercy"

Guest Prayer: II of II: Andy Doyle, OP
Sweet Jesus
Part VI: "Let the Children Come to Me" (Mt 19: 14)
Your Presence in Our Loss (A prayer for those who have Lost a Child
through Miscarriage)
"I am the Bread of Life" (Jn 6: 48) (A prayer To End Child Starvation)
Where are You?

Guest Prayer: Kelly Jayne Lazell
A Mother's Heart

Part VII: Within Reach of You

Let Hope Arise (After the Myanmar land slide)
A Prayer in the Midst of Destruction (An Explosion in Beirut)
In the Service of the Truth (I) (A Prayer for Alexei Navalny after
Being Poisoned)
In the Service of the Truth (II) (A Prayer for the Protection of Alexei
Navalny and the Russian people)
In the Service of Love (A Prayer for Refugees in Ethiopia)
A Temple of the Lord (2 Cor 3: 16-17) (A prayer for all the
Ethiopians Being Murdered at Religious Sites)
"I Beg You" (A Prayer for Peace in Myanmar)
"A Dark Light, Lord, Looms" (A Prayer for Nuclear Disarmament)

Guest Prayer: Gillian Cockwill
My Spiritual Journey – Good
My Spiritual Journey – Bad

The World in Turmoil
Epilogue
Your Cross
Transparent
Life Grows into Life
End Word by Bishop John Keenan, of Paisley Diocese,
Scotland
---
TESTIMONIALS
"Prayer is our lifeline to our Heavenly Father. In this prayer book, Francis has a great compilation of prayers that are fitting with the issues and challenges of today. A much needed book to enhance your spiritual journey. " – John C. Preiss- President, Fatima Family Apostolate
"Within Reach of You is a lovely collection of unique prayer prose. Francis Etheredge and his guest prayer poets rekindle belief in the power of prayer as they respond to world events, such as the prayer 'Hope in Blossom,' a prayer for China that is written in English and Chinese, or 'To Kiss the Leper,' a prayer for all healthcare workers with Covid-19. There are also prayers that emerge from the poet's life. In fact, the book is dedicated to Etheredge's sister, Charlotte, who has struggled with severe health issues for decades and whose life is itself a prayer of trust, fortitude, and enduring love, reminding us to 'rejoice when you can.'" – Claire Henning, D.Min., catholic-conversations.com
"The title Within Reach of You excites. It tells of live, dynamic relationship. This is prayer. I imagine God's gaze of grace, like a search-light beam, picking us out in love and care. And down that beam pours his Spirit, and up returns our praise and prayer. I am the University Chaplain, University of Bath. After 35 years working as a doctor and medical teacher (18 as a Minister in Self-Employment (worker priest) in the Anglican Church) I came here in 2016. It is so rewarding to work with students in a new way. Many are seeking God, and the hope that he gives. Faith is re-awakening. I believe that the foundation stones of this re-awakening are a narrative of seeking Unity (John 17: 21), a practice of compassion, and a rhythm of prayer. Prayer is the life-spring. This book is an excellent resource to encourage us to deepen our prayer life." – Revd Canon Nigel Rawlinson, University Chaplain, University of Bath, UK, and Assistant Area Dean, Diocese of Bath and Wells.
"Serving the Missionaries of the Holy Family as mission advancement director, I am often surprised by Catholic families who have little or no devotion to the Holy Family of Jesus, Mary, and Joseph. The Holy Family is the standard of holiness for all families, and Francis Etheredge makes this connection a living, breathing reality throughout Within Reach of You. Simple and profound, visible and invisible, from understanding each other's needs, to questions about the universe, to fulfilling our relationships, growing closer to God through this book of prayer is Within Reach of You. +JMJ+" – Maurice Prater, Mission Advancement Director, Missionaries of the Holy Family (MSF)
"This book gives what this world desperately needs: Relationship and Family. When the world has been intentionally or unintentionally creating egocentric people who do not need God or family, I feel that Francis' call is to bring people back to the right relationship with the Triune God and to cherish the "koinonia " of a family, our own family and God's family. As a musician, I enjoy reading this book as going to a Choir Festival, a Prayer Festival. With all the deep sharing of guests through their prayers. This book gives us a way to satisfy the desperate need of this world and it is PRAYERS. True deep and intimate prayers to open our eyes to see Jesus, to be filled with the Holy Spirit and to experience God with us – Emmanuel!" – Rt. Rev. Dr. Silas Ng, Chief Bishop, Anglican Mission in Canada
"This is a brilliant book. We think of insight as coming from the mind; and prayer as coming from the heart. In this wonderful book we find almost a new genre – insights about the most difficult and puzzling aspects of our present crisis, infusing the prayers with imagery that open our hearts to a new understanding of God's truths. I thought "Hell's Hole: An Unbidden Mercy" was an especially wonderful description of despair turned into prayer." – Ronda Chervin, Ph.D., Retired Professor of Philosophy, author of numerous Catholic books, and TV and Radio presenter.

"Rabbi Menachem Mendl of Kotzk once asked his disciples "Where is the dwelling of God?" His disciples wondered at his words: surely God was all around. Then Rabbi Menachem answered, "God dwells wherever human beings let him in". The truth is we do not let God into our lives. Francis's book, through his meditations and prayers is a gentle introduction to allowing God into our lives. We begin to see with the eyes of faith and all things appear new in this transformed vision." – John O'Brien, ofm, author of At Eternity's Gate: Artists of the Infinite
"I have read Francis Etheredge's book of prayers and reflections with the greatest of interest. He offers a mixture of deep faith and lived experience which greatly enhances the value of this book: it is not a 'mere' academic exercise. As a former prison chaplain, I was particularly struck by the section on prisoners, which resonated very deeply. He captures the despair, but also the deep hope and faith that can exist in prisons, sometimes side by side. This book would be an excellent companion during a silent retreat, for those working with the most disadvantaged in our society (there is more than a touch of Pope Francis here) and for all who wish to experience prayer as more than a set text, but as a lived dialogue with God. A great book." – Deacon Dr Harry Schnitker, Obl.O.Ss.S, Director, St John Henry Newman Centre for Pastoral Theology, Maryvale Institute, Birmingham; Associate, St Andrews Foundation, University of Glasgow.
"The prayers rise to God, but their perfume lingers with us on earth." – Fr. Michael Collins: http://www.fathermichaelcollins.com/

"In a time of uncertainty and change, prayer is both a support and a tool for all Christians to use.In this  third compilation of prayers and thoughts "Within Reach of You", we are given helps for many different occasions. I commend this work as very useful spiritual and pastoral resource for anybody living the Gospel life." – Prof. Giorgio Giovanelli, Pontifical Lateran University:  https://www.giuristiperlapastorale.it/.
ABOUT THE AUTHOR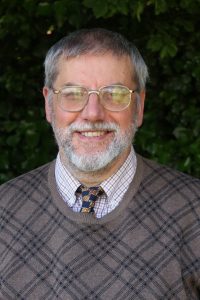 Mr. Francis Etheredge is married with eight children, plus three in heaven.
Francis is the author of Scripture: A Unique Word, and a trilogy From Truth and Truth (Volume I-"Faithful Reason"; Volume II-"Faith and Reason in Dialogue"; Volume III-"Faith Is Married Reason"), all of which are published by Cambridge Scholars Publishing; and of The Human Person: A Bioethical Word, The Family on Pilgrimage: God Leads through Dead Ends, The Prayerful Kiss, Conception: An Icon of the Beginning, Mary and Bioethics: An Exploration,  and Honest Rust and Gold: A Second Collection of Prose and Poetry, all of which are published by En Route Books and Media.
See Francis' other books, too, entitled Scripture: A Unique Word, From Truth and truth: Volume I-Faithful Reason, From Truth and truth: Volume II: Faith and Reason in Dialogue, From Truth and truth: Volume III: Faith is Married Reason.
Francis is currently a freelance writer and speaker and his "Posts" on LinkedIn can be viewed here. Poetry; short articles; autobiographical blog; excerpts from books; and "Philosophize: A Ten Minute Write." He has earned a BA Div (Hons), MA in Catholic Theology, PGC in Biblical Studies, PGC in Higher Education, and an MA in Marriage and Family (Distinction). Enjoy these additional articles by Francis Etheredge:
OTHER POPULAR SPIRITUALITY BOOKS
Manning Up! Lessons from St. Joseph and Jesus by Fr. Michael Nixon Today's world is encountering a profound crisis of manhood with confusion being sown about what it means to be a man, about what it means to be masculine, and about what it means to live as a male....
read more